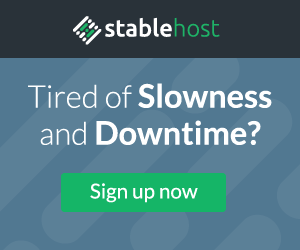 Admin Templates are quite popular these days as a lot of the designers started creating mobile and web apps. If you are new to this area, you might want to have a look at these templates as you might find one that will be the starting point of your project. These 6 great and free admin templates are based on the well liked Twitter Bootstrap Framework and they are fully responsive, looking good on any desktop or handheld device. Some of the themes already include some widgets or other goodies that will help you in creating your project. Have a look and take your pick.
AdminLTE
AdminLTE is a fully responsive admin template based on Twitter Bootstrap 3 framework. Highly-customizable and easy to use. Fits many screen resolutions from small mobile devices to large desktops.
DOWNLOAD
HOSTING
Edmin – Free Responsive Admin Template
Edmin is yet another Bootstrap Admin Template with jQuery plugins that is perfect for your projects. It provides an easy to use modern and flat user interface design and a fully responsive layout that is compatible with handheld devices such as phones and tablets.
DOWNLOAD
HOSTING
TemplateVamp
This template is also based on Twitter Bootstrap, TemplateVamp is a fully functional and customizable free admin template that leverages the power and flexibility of HTML5 & CSS3. It can be used as a front-end toolkit for rapidly developing web applications that are lightweight, faster, and mobile-friendly; TemplateVamp is a great starting point.
DOWNLOAD
HOSTING
Bcore – Bootstrap Free Admin Template
Bcore is a free fully Responsive admin template based on Twitter Bootstrap framework. It comes with almost all plugins that you may ever need.  Just have a look on the demo and you will see how much stuff this template got for you. 
DOWNLOAD
HOSTING
VinceG
A generic admin theme built with Bootstrap free for both personal and commercial use.
DOWNLOAD
HOSTING
Admin Bootstrap Template
This is a free starter template for admin, control panel or dashboard. This template has a collapsible tree menu, and a variety of panels that can be used as dashboard widgets.
DOWNLOAD
HOSTING